Surekha Sikri News: A very well-known Bollywood actress has died today on July 16, 2021, the cause of her death is being made of heart attack, after which many big Bollywood actors are remembering her by putting her photos and many people are remembering her. Even after going home, we will not tell you how Bollywood actress Surekha Sikri died Today, we will tell you some things related to her life that you may not have heard. Today we are not with us, that's why today we are going to tell you some such things related to his life, which you probably do not know, read this article completely to know the special information related to him.
Before giving information related to her life, let us give you some such information which will be very important for you Bollywood actress Surekha Sikri has done a great job not only in Bollywood films but also in television serials and with this she has also worked in Tamil and Tamil. He has also worked in Punjabi films, while he does not speak Tamil and Punjabi so well, but still, he has a very small Kedar in different film industries and he has done the most work in the Bollywood industry, his first film is Kissa. When Kursi Ka was released, this film was a huge hit at the box office, in which Surekha Sikri's name was Meera and in 2020 her last film was Ghost Story, even after that she had to do some films but due to her ill health, she None of the films was signed.
Surekha Sikri Film Career
Surekha Sikri has done more than 30 films in her career spanning 42 years and has also acted in 16 television serials out of which she also appeared in CID in 2007 as well as Ek Tha Raja Ek Thi Rani Pradesh Balika Vadhu Like she has worked in many super hit television serials, due to which she started getting work in many films, after 2009, due to her age, she got much less work and she too is not doing so much work in Bollywood films. Due to which I could not see him in a single film from 2009 to 2017 and in 2018 we saw him again in Bollywood films in the film Sniff, after which he was also selected for the film Badhaai Ho in 2018 which was the 2018 film. The film proved to be the biggest hit.
Surekha Sikri Films
Kissa Kursi Ka (1978) – Meera
Anandi Anant (1986)
Tamas (1986)
Salim Langde Pe Mat Ro (1989)
Parinati (1989) – Ganesh's wife
Nazar (1990) – Bua
Karamati Coat (1993) – Old Woman
Little Buddha (1993) – Sonali
Mammo (1994) – Fayyazi
Naseem (1995)
Sardari Begum (1996) – Idbal Bai
Janmadinam (1998, Malayalam film) –
Amma (Sarasu's mother)
Sarfarosh (1999) – Sultan's Mother (special appearance)
Dillagi (1999) – Kiran
Cotton Mary (1999) – Gwen

Hari-Bhari (2000) – Hasina
Zubeidaa (2001) – Fayyazi
Deham (2001) – Om's mother
Kali Salwar (2002) – Anwari
Mr. and Mrs. Iyer (2003) – Najma Khan
Raghu Romeo (2003) – Mother
Raincoat (2004) – Manoj's mom
Tumsa Nahin Dekha (2004) – Daksh's grandma
Jo Bole So Nihaal (2005) – Mrs. Balwant Singh (Nihaal's mom)
Humko Deewana Kar Gaye (2006)
Dev.D (2009) – Bus passenger
Sniff (2017) – Bebe
Badhaai Ho (2018) – Durga Devi Kaushik
Sheer Qorma (2020)
Ghost Stories (2020 film)
Surekha Sikri Television
Ek Tha Raja Ek Thi Rani (2015–2017)
Pardes Mein Hai Mera Dil (2016-2017)
Balika Vadhu (2008-2016)
Maa Exchange
Maha Kumbh (2014–2015)
Saat Phere – Saloni Ka Safar as Bhabo (2006-2009)
Banegi Apni Baat
Kesar as Saroj

Kkehna Hai Kuch Mujhko
Saher
Samay
C.I.D. (1 Episode, 2007)
Godan
Just Mohabbat (1996-2000)
Kabhie Kabhie
Sanjha Chula (1990)
Surekha Sikri personal Information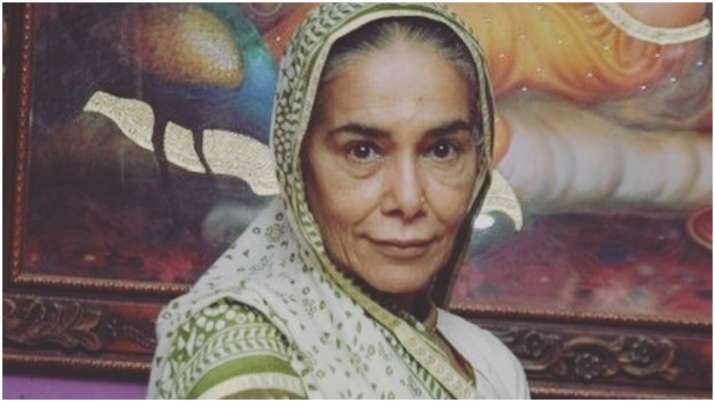 Surekha Sikri was born on 19 April 1945 and hails from Delhi and died on 16 July 2021 and lived in Mumbai when she died, her name is more than a television serial and a film hit. Her name had become very popular with the serial named Balika Vadhu and after that, her name became very famous with the 2018 film Badhaai Ho. At the time of his death, he was 76 years old, and from 1978 to 1921, he became a very good artist in the Bollywood industry, he has only one child and only Naseeruddin Shah comes in the badly spoken industry among his relatives.
Because she is a very well-known actress, she has also received very big awards. From her Lord's mind, she has received 16 awards only on television. These 6 awards have been won by the Bollywood industry film tree itself and from the government's side. She also received the National Film Award for Best Supporting Actress.
Surekha Sikri life background
Surekha Sikri hails from Sikri village in Uttar Pradesh, the village she named after her name, her childhood spent in Almora and Nainital, Uttar Pradesh career was started at Aligarh Muslim University from National School of Drama. She had taken an acting class which is located in New Delhi, after that she shifted to Mumbai to suit some models and ad in Delhi and she also started getting a lot of work in Mumbai, after which in 1989 she got her job. Sangeet Natak Akademi Award was also given. His father was in the Air Force and his mother is a teacher, he has only one son, Nasruddin Shah, his brother-in-law, his Taj Mahal died on October 20, 2009, after which it became very less to see in films and serials. Stay with us to know the latest news related to the country and the world.