Shriya Saran Bhatnagar (born 11 September 1982) is an indian actress normaly known as Shriya Saran who works predominantly in Telugu, Tamil, and Hindi-language films. Although Saran aspired to become a well-known dancer, she became an actress with her film debut in 2001 with the Telugu film Ishtam, and had her first commercial success with Nuvve Nuvve (2002).
Shriya Saran Biography
Shriya Saran Bhatnagar was born on 11 September 1982 in Haridwar in Northern India, to Pushpendra Saran Bhatnagar and Neeraja Saran Bhatnagar. Her father worked for Bharat Heavy Electricals Limited and her mother was a chemistry teacher in Delhi Public School, Ranipur in Haridwar and Delhi Public School, Mathura Road, New Delhi. Saran completed her schooling from both schools where her mother had taught. She has an elder brother named Abhiroop who lives in Mumbai.
Shriya stands at a height of 5 feet 6 inches (167 cm) and weighs around 55 kg (121 lbs). Her husband's name is Andrei Koscheev, a Russian businessman whom she married in 2018. Shriya Saran & Andrei Koscheev couple has a beautifull baby girl Radha.
Saran is a brand ambassador for the Naandi Foundation, and for the Save A Child's Heart Foundation (SACH), which works for the benefit of poor children and people affected by natural calamities. She helps finance a Prevention of Aids foundation. In 2009.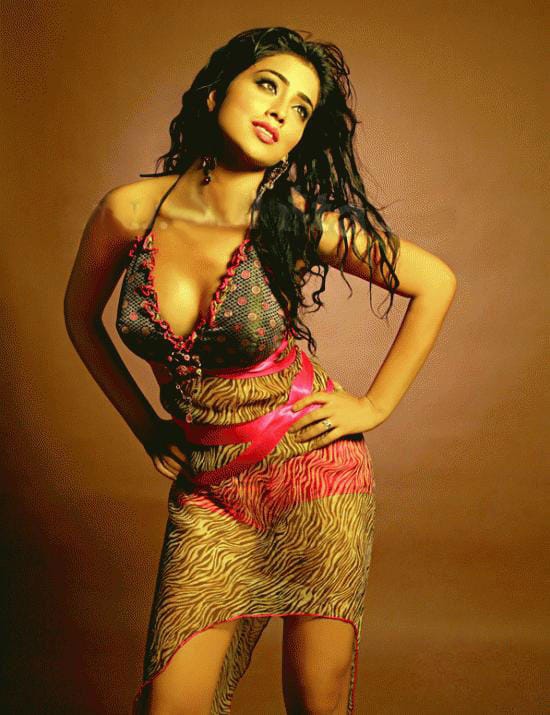 Shriya Saran Career
Shriya Saran subsequently appeared in several more Telugu films alongside Hindi and Tamil films. In 2007, she starred in "Sivaji: The Boss" directed by S. Shankar The film stars Rajinikanth and Shriya Saran with Vivek, Suman, Manivannan and Raghuvaran, the highest-grossing Tamil film at that time.
She also gained critical acclaim for her role in the Hindi film Awarapan (2007) alongside Imran Hashmi. In 2008,
Saran played the lead role in her first English film, the American–Indian co-production "The Other End of the Line" starring Jesse Metcalfe, Shriya Saran and Anupam Kher.
Shriya Saran Filmography
Here are some of Shriya Saran's notable Tamil, Telugu, and Hindi films with their year of release, co-stars, and director's name:
Tamil Films:
Enakku 20 Unakku 18 (2003) – co-starring Tarun Kumar; directed by Jyothi Krishna
Sivaji (2007) – co-starring Rajinikanth; directed by S. Shankar
Kanthaswamy (2009) – co-starring Vikram; directed by Susi Ganesan
Thiruvilaiyaadal Aarambam (2006) – co-starring Dhanush; directed by Boopathy Pandian
Mazhai (2005) – co-starring Jayam Ravi; directed by Rajkumar
Kannada Film
Arasu – (2007) – Cameo appearance
Chandra (2013) – Alongside Prem Kumar Directed by Roopa Iyer.
Kabzaa – (2023) – The film features Upendra, Shiva Rajkumar, Kiccha Sudeepa; directed by R. Chandru.
Telugu Films:
Santosham (2002) – co-starring Nagarjuna and Gracy Singh; directed by Dasarath
Chatrapathi (2005) – co-starring Prabhas; directed by S. S. Rajamouli
Manam (2014) – co-starring Akkineni Nagarjuna, Naga Chaitanya, and Samantha; directed by Vikram Kumar
Tagore (2003) – co-starring Chiranjeevi and Jyothika; directed by V. V. Vinayak
Nuvve Nuvve (2002) – co-starring Tarun Kumar; directed by Trivikram Srinivas
Gamanam – (2021) – The film stars Shriya Saran, Siva Kandukuri and Priyanka Jawalkar directed by debutant
RRR – (2022) – The film stars N. T. Rama Rao Jr., Ram Charan, Ajay Devgn, Alia Bhatt; directed by S. S. Rajamouli.
Hindi Films:
Awarapan (2007) – co-starring Emraan Hashmi; directed by Mohit Suri
Drishyam (2015) – co-starring Ajay Devgn and Tabu; directed by Nishikant Kamat
Zila Ghaziabad (2013) – co-starring Sanjay Dutt and Arshad Warsi; directed by Anand Kumar
Tujhko Jo Paaya (2010) – co-starring Mohit Chauhan; directed by Mohit Suri
Ek: The Power of One (2009) – co-starring Bobby Deol and Nana Patekar; directed by Sangeeth Sivan
Tadka – (2022) – starring Nana Patekar, Ali Fazal, Shriya Saran and Tapsee Pannu; directed by actor Prakash Raj.
Drishyam 2 – (2022) – The film stars Ajay Devgn, Akshaye Khanna, Tabu, and Shriya Saran. It also features Saurabh Shukla, Rajat Kapoor, Ishita Dutta; directed and co-produced by Abhishek Pathak.
Shriya Saran Upcoming Movie
"Music School" (2023) – is an upcoming Indian musical film made in Telugu and Hindi languages written and directed by Papa Rao Biyyala, starring Shriya Saran, Prakash Raj and Sharman Joshi. The film to be released date on 12 May 2023.
Shriya Saran Music Video
Shriya Saran has also appeared in several music videos. Here are some of them:
"Thoda Thoda" by Hariharan (2002)
"Munna Mobile" by Sonu Nigam (2003)
"Ek Pal Ke Liye" by Sonu Nigam (2005)
"Oola Oolala Ala" by Karthik (2005)
"Awaara Bhavaren" by Himesh Reshammiya (2007)
"Deepala" by Ghantasala Ratnakumar (2008)
"Maduraikku Pogathadi" by Anthony Daasan (2016)
Shriya Saran Facts
Here are some interesting facts about Shriya Saran:
Shriya Saran was born on September 11, 1982, in Dehradun, Uttarakhand, India.
She began her career as a model and appeared in several advertisements before making her acting debut.
She made her acting debut in 2001 with the Telugu film "Ishtam" and later made her Tamil debut with "Enakku 20 Unakku 18" in 2003.
Shriya has acted in more than 70 films across Telugu, Tamil, Hindi, Kannada, and Malayalam languages.
She has won several awards for her performances in films, including a Nandi Award and a Filmfare Award.
In addition to acting, Shriya is also a trained Kathak dancer and has performed in several stage shows.
Shriya is known for her philanthropic work and is associated with several non-profit organizations that work towards the betterment of society.
She is married to Andrei Koscheev, a Russian entrepreneur and tennis player.
Shriya is a polyglot and can speak several languages fluently, including English, Hindi, Tamil, Telugu, and Spanish.
In her free time, Shriya loves to read books, listen to music, and travel to new places
So stay with us even further, we will keep giving you complete information about Shriya Saran Thank You
Comments
0 comments