Jodi Movie 2021: Jodi is an upcoming Indian Punjabi language film that is going to be a little romance and comedy film somewhere. It is an old-time film written and directed by Amberdeep Singh as well as a Punjabi film.
The biggest artist of the industry Diljit Dosanjh is also going to be seen and along with this, you will also see the most famous female singer and actor in the Punjabi industry, Nimrat Khaira, this film is already being described as a very super hit because the film has a very good budget. It is being made with a very big star cast, this film is being released in the era of this epidemic, it will be seen how much box office collection this film can make after its release.
The Punjabi film Jodi was shoot in early 2019 and the film was to be released in August 2019 but due to some technical glitches in 2019, it was decided to release the film in October 2019 but October Already in 2019, a film by Diljit Dosanjh was scheduled to come, due to which the film was postponed again by Amarinder Gill, after which it was decided to release the film on 26 June 2020 but completed due to corona pandemic in 2020 India was closed and due to the lockdown at that time the film was also not released because all theaters were closed all over India, due to which no film could make a box office collection and by the Government of India.
No film was even being allowed to release, after which the film has recently been ordered to be released in 2021 and the film is going to be released on June 24, 2021, in theaters near you but in 2021 There is also a lockdown as before, due to which it is being said that this film will again Will be postponed from.
Jodi Punjabi Movie Review & Rating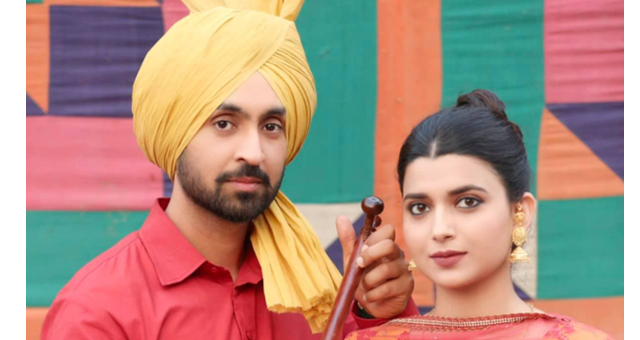 JODI film is getting very good reviews from the audience and as well as the fans of the actors working in which film are also showing a lot of enthusiasm, a lot of people have promoted this film in the name of this film. Peoples have created Instagram & Facebook pages on Social Media which have been liked by these big actors, as well as you will get many posts related to this film, which can be seen on how much this film can be guessed. The big superhit film is about to go.
It is not that this film will go to superhit. Many such films are going to be released around it, but Diljit Dosanjh's 2019 Punjabi film Shada and December 2019 Bollywood film Good Newwz Play After a huge box office collection, it is being said that Diljit Dosanjh's upcoming Punjabi film Jodi will also be a super hit. The film has received a very good rating of 4.4/5 from the audience.
Jodi Punjabi Movie Cast & Crew
Directed = Amberdeep Singh
Produced = Amrinder Gill, Diljit Dosanjh & Karaj Gill
Screenplay = Amberdeep Singh
Starring = Diljit Dosanjh, Nimrat Khaira, Gurshabad, Hardeep Gill, Harsimran & Drishti Grewal
Music = Tru Skool
Cinematography = Sandeep Patil
Production Companies = Rhythm Boyz Entertainment, Dalmora Films & Dosanjhanwala Productions
Distributed = Rhythm Boyz
Release date = 24 June 2021
Country = India
Language = Punjabi
Jodi Punjabi Movie Story
The Punjabi film Jodi has neither a trailer nor a teacher released to know anything about this film, but according to the pictures of the actors working in which film, the pictures have been put on their social media. Being that this is an old fashioned film and it was very difficult to love in those days, then the same difficulties and difficulties are shown in this film and the same difficulties will be shown in this film as a laughing joke.
Elder elders can also watch this film with great passion and the present-day generation can also enjoy watching this film because it is not just an old-fashioned film, it is a comedy along with the old-fashioned film. Nowadays, the younger generation is very much liked; in Punjabi films, comedy films are often made and comedy films are made the most. Diljit Dosanjh is also known as the Comedy King in Punjab and this status has also spread to his Bollywood because even in Bollywood, Diljit's comedy is praised by every big sitar who has worked with him.
Jodi Punjabi Movie Box Office Prediction
Before we talk about the box office of the upcoming Punjabi film Jodi in India, let us tell you that the film is directed by Amberdeep Singh and the film is produced by Amrinder Gill, Diljit Dosanjh & Karaj Gill.
The screenplay of this film was Also written by Amberdeep Singh and the music of this film has been given by Tru Skool, the company of Diljit Dosanjh. Before talking about this film's box office, let us tell you that it is a Punjabi language film and the budget of this film is not as much as that of a typical Bollywood film, this film was made around a budget of 20 crores.
There is no confirmation so far by any artist that how much is the budget of this film but according to information from sources, we are telling you that this film has been made on a budget of ₹ 20 crores, after which this film To be a hit, a budget of 30 crores has to be done, which Diljit Dosanjh's film does very comfortably.
This film will be released on 24 June 2021 and it will also be released when this lockdown of 2021 will open if in 2021 the entire month of June does not open this profit down, then this film will be postponed from June 2021 and sources It is getting information from this that then this film will be released in October 2021.
Keeping in mind how the reviews and ratings of this film are received from the audience, it is being told that the film can do a total box office collection of 30 to 40 crores at its box office, which is Many Punjabi films are considered to be very large, Mostly Punjabi films are prepared in a budget of 8 to 15 crores and after collecting 20 to 25 crores, that film proves to be a super hit but Diljit Dosanjh's film is always 30. Goes above 40 crores only. Stay tuned with us to know such latest news related to entertainment.